Duration: Friday, October 6 – Sunday, November 12, 2023 Venues: Minato Mirai 21 (King Axis, Grand Mall Park Art Square) Kannai area (former Daiichi Bank Yokohama branch), etc.
In 2022, BankART1929 developed the Art Table project with the cooperation of many businesses, residents, schools, and stores around the King Axis in the Minato Mirai 21 district. By the simple act of setting up an out-of-the-ordinary art table along the King Axis, a pedestrian walkway within the ongoing development zone of Minato Mirai 21, we initiated an interactive dialogue with a broader audience and, in the process, led to the birth of new relationships. This year, the project will travel beyond the King Axis of Minato Mirai 21 to the Grand Mall Park, the Kannai district, and the Yamauchi Pier. In inner-city Yokohama, there are numerous spaces where anybody can enter and have a rest, from pedestrian spaces and plazas referred to as "public open spaces" within the grounds of private buildings to public parks and roads and railroad station premises. By reaffirming the value of such spaces and interposing a "public art table" as a component within the city, these tables become places of connections, enjoyment, and enrichment, hopefully leading to new urban activities of cultural and economic exchanges.
●Participating Artists:
Atelier Bow-Wow + Tsukamoto Laboratory, Tokyo Institute of Technology
SPACESPACE
Asao TOKOLO
Nao NISHIHARA
Takanori SHIMODERA (TAIYA)
Workstation + Takahashi Studio, Musashino Art University / Department of Architecture
Takahiro KAI / studio arche
Mitsushi YANAIHARA + Kunihiko SATŌ
Michiyoshi ISOZAKI
TADA Shoji Atelier

●Events:
Public Art Table Talk Show
Date + Time: Friday, October 20, 2023 from 7:30pm - 9:00pm
Venue: Yokohama Gate Tower, 1st floor (retail space)
Seating capacity: 50 people / Reservations required (free admission)
Two participating artists from the "Public Art Table" project centered along the King axis will give talks about their productions. (A casual reception will follow the talk).
Organizer: Yokohama Gate Tower Management Association
Guided Tour of Public Art Tables & Yokohama Gate Tower Public Art
Date & Time: Saturday, October 21, 2023 from 1:30pm-3:30pm
Venue: ART START (in the Yokohama Gate Tower)
Participant capacity: 50 people / Reservations required (free admission)
A special guided tour of Yokohama Gate Tower's public art and BankART's Public Art Tables (10 artworks) will be organized. The Public Art Table artists will present insights into their creations while standing by their tables.
Organizers: Yokohama Gate Tower Management Association + BankART1929
Deadline: Wednesday, October 18 at 5:00pm (Registration will close when the event is full.)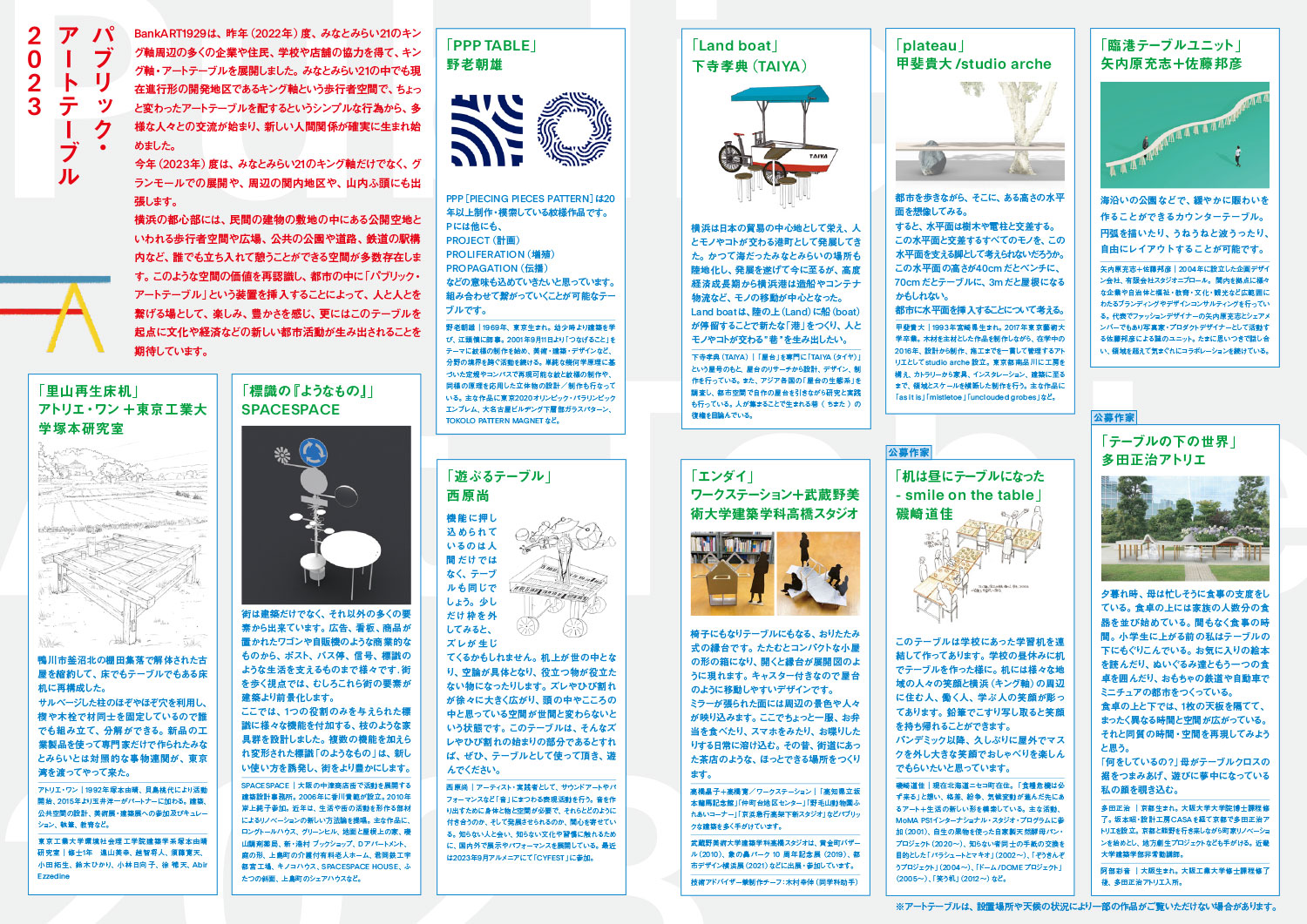 Organized by BankART1929
Co-organized by the City of Yokohama, Sports, Culture and Dynamic City Development Bureau
In cooperation with (in no particular order) Mitsubishi Estate, Kannaigai OPEN!15, Yokohama Gate Tower Management Association, Minatomirai-Honchō Elementary School, Keikyu Corporation, Shiseido Global Innovation Center (S/park), Yokohama Grand Gate Disaster Prevention Center, Smart Niche Cheering Group, Takashima Central Park Gardening Club, Yokohama Minatomirai 21.
This project was selected by the Minato Mirai 21 Community Development Trust.

About the Artists and their Projects
PPP (Piecing Pieces Pattern) TABLE
Asao TOKOLO
PPP [PIECING PIECES PATTERN] is a pattern work that has been produced and explored for over 20 years. P is also used in other words, I would like to put other meanings, such as PROJECT (planning), PROLIFERATION (proliferation), and PROPAGATION (propagation), in "P." These are themes that can be combined and linked together.
Asao Tokolo was born in Tokyo in 1969. On September 11, 2001, he began creating patterns with the theme of "connecting" and continues to work across the boundaries of art, architecture, design, and other fields. He also designs and produces three-dimensional objects based on the same principle. Major works include the Tokyo 2010 Olympic and Paralympic emblems, the glass pattern for the lower level of the Dainagoya Building, and the TOKOLO PATTERN MAGNET.
Land Boat
Takanori SHIMODERA (TAIYA)
Yokohama flourished as the center of Japan's trade and developed as a port town where people and goods intersected. The Port of Yokohama has been mainly used for the transfer of goods, such as shipbuilding and container distribution, since the period of rapid economic growth. Land boat creates a new "harbor" by berthing a boat on land, bringing together a "harbor" where people and things can meet and interact.
Takanori Shimodera (TAIYA). Specializing in "yatai" (food stalls), under the trade name "TAIYA," Shimodera conducts research, design, and production of food stalls. He also investigates the "food stall ecosystem" of Asian countries and carries out his studies and practices while operating his food stalls in urban spaces. His objective is to revitalize the streets where people gather.
plateau
Takahiro KAI /studio arche
Imagine a horizontal plane of a certain height as you walk through a city. There, the horizontal plane intersects with trees and utility poles. Can we consider all the objects intersecting this horizontal plane as footings supporting this plane? If the height of this plane is 40 centimeters, it could be a bench; at 70 centimeters, it could be a table; at 3 meters, it could be a roof. Let us think about the intervention of horizontal surfaces in the city.
Takahiro Kai. Born 1993 in Miyazaki. Kai graduated from Tokyo University of the Arts in 2017. Working mainly with wood, he established studio arche in 2016 while still a student, as an atelier that manages everything from design to production and construction. Kai works across domains and scales, from cutlery to furniture, installations, and architecture, while maintaining a studio in Minami-Shinagawa, Tokyo. Major works include "as it is," "mistletoe," and "unclouded grobes."
Rinko Table Unit
Mitsushi YANAIHARA+ Kunihiko SATŌ
This counter table facilitates a gentle, convivial atmosphere in places like a seaside park. It can be freely rearranged to form a circular arc or undulating waves.
Mitsushi YANAIHARA and Kunihiko SATŌ. Studio Nibroll was established in 2004 as a planning and design company. Based in Kannai, the company works with various companies and municipalities on a wide range of branding and design consulting services, including welfare, education, culture, and tourism. The enigmatic team consists of Mitsushi Yanaihara, a fashion designer, and Kunihiko Sato, a photographer and product designer who is also a shared member of the company. They occasionally meet on the spur of the moment and continue to collaborate whimsically, transcending boundaries.
Regenerative Backcountry Tablebench
Atelier Bow-Wow + Tsukamoto Laboratory / Tokyo Institute of Technology
An old house dismantled in the terraced rice field village of Kamanuma-kita, in the city of Kamogawa, was reconstructed into a tablebench. Using the mortises of the salvaged columns, the wooden components are held together with wedges and stoppers so that anyone can assemble and disassemble the structure. Unlike Minato Mirai, built only by professional constructors using brand-new industrial products, this contrarian structure traveled across Tokyo Bay.
Atelier Bow-Wow. The firm was founded in 1992 by Yoshiharu Tsukamoto and Momoyo Kaijima, and Yoichi Tamai joined the firm as a partner in 2015. Atelier Bow-Wow specializes in the design of architecture and public spaces, participation and curation of art and architecture exhibitions, writing, and education.
Yoshiharu Tsukamoto Laboratory, Department of Architecture, School of Environment and Society, Tokyo Institute of Technology. First-year master's students Miyuki Toyama, Masato Ochi, Yoshitaka Sutou, Takuo Oda, Hikari Suzuki, Hinako Kobayashi, Xu De Tian, and Abir Ezzedine.
(A Sort of) Signpost SPACESPACE
A city is comprised of many constituents besides architecture. These include commercial elements such as advertisements, billboards, product wagons, vending machines, and everyday objects such as mailboxes, bus stops, traffic signals, and signs. From the eyes of a pedestrian, these aspects of the city are predominant over architecture.
For this project, we designed a group of branch-like furniture that adds various functions to a sign given only one role. The 'sort of' signpost, transformed by adding multiple functions, initiates new ways of use and enlivens the city.
SPACESPACE is an architectural design firm based in the Nakatsu shopping district in Osaka, founded by Takanori Kagawa in 2006 and joined by Junko Kishigami in 2010. In recent years, the firm has been advocating new renovation methodologies with components that shape the life and activities of cities. Major works include Long Tall House, Green Hill, Ground and Above Roof House, Isoyama Dispensing Pharmacy, New Minatomura Book Shop (BankART), D-Apartment, ReForm of Garden, Nursing Home in Kamishima-cho, Kimiioka Ironworks Utsunomiya Factory, Mushroom House, SPACESPACE HOUSE, Two Inclined Planes, Salle D'etude Kusunoki, etc.
Playable Table
Nao NISHIHARA
Humans are not the only ones pushed into function; tables would be the same. If we try to remove the frame just a bit, slippage may occur. The table becomes the world, the empty theory becomes concrete, and the useful becomes useless. The gaps and cracks gradually widen, and the space we think of as in our minds and hearts is no different from the real world. If this table could be the beginning of such displacements and cracks, please use it as a table to play with.
As an artist and practitioner, Nao Nishihara engages in "sound" related activities, including sound art and performance. His interests lie in the necessity of bodies, objects, and spaces to create sound and how we can interact and evolve with them. He has participated in exhibitions and performances in Japan and abroad to meet new people and engage with unfamiliar cultures and customs. Nishihara most recently participated in "CYFEST" in Armenia in September 2023.
ENDAI (foldout tablebench)
Workstation + Takahashi Studio / Musashino Art University Department of Architecture
This folding bench can be used as a bench or a table. When folded, it becomes a compact box in the shape of a small house, and as it opens, the bench unfolds like an expansion drawing. It is equipped with casters and designed to move around easily like a food stall. The mirrored surface reflects the surrounding scenery and people. It is an everyday place where you can take a break, eat lunch, check your smartphone, or chat with others. Like the teahouses that once existed on the old highways, we will create a place where people can relax and feel at ease.
Akiko Takahashi + Hiroshi Takahashi / Workstation. The studio has been involved in many public architectural projects, including the Sakamoto Ryoma Memorial Museum, Yokohamashi Nakamachidaichiku Center, Nogeyama Zoo Fureai Corner, and the new studio under the Keihin Kyuko elevated railway line. Takahashi Studio, Department of Architecture, Musashino Art University has exhibited and participated in Koganecho Bazaar (2010), ZOU-NO-HANA Park 10th Anniversary Exhibition (2019), and Urban Design Yokohama Exhibition (2021).
Technical advisor and production chief: Yukinobu Kimura (assistant of the department)
The Desk Is Now A Table At Noon (smile on the table)
Michiyoshi ISOZAKI
This table is made by joining old school desks. In the same manner, as the makeshift table assembled with desks during lunch break at school. The desktops are filled with engraved portraits of people with smiling faces from areas in and around and people who live, work, and study in the Yokohama (King Axis) area. By rubbing the surface with a pencil, you can take a copy of a smile with you. In the wake of the pandemic, we wish everyone the enjoyment of chatting outdoors with big smiley faces.
Michiyoshi Isozaki lives in Niseko, Hokkaido. Isozaki believes that "the food crisis will surely come" and is exploring new art and life forms beyond the current disparities, conflicts, and climate change. Major activities include participation in the MoMA PS1 International Studio Program (2001), the homemade natural yeast bread project using native fruits (2020~), "Parachute and Makio" (2002~), a letter exchange project between strangers, "Zokinzo Project" (2004~), "Dome/DOME Project" (2005~), "Laughing Desk" (2012~), and others.
A World Below The Table
TADA Masaharu Atelier
It is getting dark, and my mother is busily preparing a meal. The dining table is getting set up with enough dishes for the family members. Soon, it will be time to eat. As a pre-elementary school child, I hid under the table. I read my favorite picture books, sit around another table with my stuffed animals, and build miniature cities with toy trains and cars. Above and below, separated by a single tabletop, are two completely different times and spaces. In this way, I intend to recreate the same quality of time and space for this project. What are you doing?" My mother lifts the hem of the tablecloth and looks into my face as I am completely immersed in my playing.
Masaharu Tada was born in Kyoto, Japan. He holds a doctorate degree from the Graduate School of Osaka University. After working at Akira Sakamoto Architect & Associates CASA, he established Shoji Tada Atelier in Kyoto. While traveling back and forth between Kyoto and Kumano, he is involved in renovation projects of machiya townhouses and other regional development projects. Tada is a part-time lecturer at the Faculty of Architecture at Kindai University. Ayane Abe was born in Osaka. After completing a master's degree at Osaka Institute of Technology, she joined Shoji Tada Atelier.
* Some of the Public Art Tables may not be available for viewing due to their location or weather conditions.
Schedule
1. MM Grass Park 2023
October 6~12, 2023 / 10:00 am to 8:00 pm
@Grand Mall Park Art Square
(Commemorating the 40th anniversary of the Minato Mirai 21 District groundbreaking)
For more information on MM Grass Park 2023, click here →.
2. Kannaigai Open! 15
October 14, 2023 / 10:00 am to 5:00 pm
October 15, 2023 / 11:30 am to 5:00 pm
@Former Daiichi Bank Yokohama Branch
For more information on Kannaigai Open! 15, click here →.
3.@King Axis, Yokohama Gate Tower + Minatomirai Honchō Elementary School
October 20, 2023 / 11:00 am to 9:00 pm
October 21, 2023 / 11:00 am to 4:00 pm
Related Events:
Public Art Table Talk Show (October 20)
Guided Tour of Public Art Tables & Yokohama Gate Tower Public Art (October 21)
For more information on related events, click here →.
3.@King Axis, Shiseido S/PARK + Keikyu Group Headquarters + Yokohama Grangate
October 27, 2023 / 11:00 am to 4:00 pm
October 28, 2023 / 11:00 am to 4:00 pm
Related Events:
Minato Mirai Street Music" will be held at S/PARK Café Terrace (outdoors ) on October 28.
For more information on related events, click here →.
4. Sakana Bunkasai (Fish Culture Festival)" next to Yamauchi Pier Central Wholesale Market at the Port of Yokohama
November 4, 2023 / 10:00 am to 4:00 pm
For more information on Sakana Bunkasai, click here →.
5. King Axis, Takashima Central Park "Minato Mirai Park Day
November 12, 2023 / 10:00 am to 3:00 pm
Minato Mirai Park Day 2023 will be held at Takashima Central Park, 10 am-3 pm (canceled in case of rain)
For more information, click here →.
Event
Public Art Table Talk Show
Date + Time: Friday, October 20, 2023 from 7:30 pm - 9:00 pm
Venue: Yokohama Gate Tower, 1st floor (retail space)
Seating capacity: 50 people / Reservations required (free admission)

Two participating artists from the "Public Art Table" project centered along the King axis will give talks about their productions. (A casual reception will follow the talk).

Lecturers:
"Behavior and the Commons, Institutions and the Public"
Yoshiharu TSUKAMOTO
Architect; Co-chair, Atelier Bow-Wow; Professor of Architecture, School of Environment and Society, Tokyo Institute of Technology

"The Styles of Food Stalls in Asian Countries"
Takanori SHIMODERA
Yatai researcher, director of TAIYA

Organizer: Yokohama Gate Tower Management Association
Guided Tour of Public Art Tables & Yokohama Gate Tower Public Art
Date & Time: Saturday, October 21, 2023 from 1:30 pm-3:30 pm
Venue: ART START (in the Yokohama Gate Tower) (to depart upon assembly)
Participant capacity: 50 people / Reservations required (free admission)

A special guided tour of Yokohama Gate Tower's public art and BankART's Public Art Tables (10 artworks) will be organized. The Public Art Table artists will present insights into their creations while standing by their tables.
Organizers: Yokohama Gate Tower Management Association + BankART1929
Deadline: Wednesday, October 18 at 5:00pm.
(Registration will close when the event is full.)
2023年10月7日
シェア